Your MMA Gym Ads Won't Work If You Get This Wrong
The platform or media is last. This is where everyone gets it wrong! But don't worry, it took me years to finally wrap my head this around. The Market, the Message and then the Media.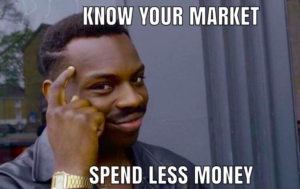 Unless you have a giant marketing budget, you need to pinpoint your target market. When you have this set-up, your ad spend goes down and your results go up.
You have to know who your market is because they are the people who buy what you're selling. Look around your gym at your current clients.
Market and message are critical. With a laser-focused market tied into your customers' needs and your brand message, you will be years ahead of your competition. These two together are so powerful that you can then use any media to attract new students.
Your market will guide you in making the advertising and service decisions that will both save and make you a lot of money. It has a bearing on everything you do.
When in doubt, always refer back to check who your market is. If you're not sure, this chapter explains how to identify the people you want to attract into your business.
Avoid the temptation of try to appeal to everyone. Many new owners are guilty of this and will take money from anyone – even those students they know are not a good fit and end up causing problems down the road, force you to chase payments and turn up late. The most successful gyms do not appeal to everyone; they have a specific market they want.
Your success depends on you choosing a smaller group of people to work with so they think, "This is the place for me." Your perfect customer should feel at home in your gym from the start. There will always be minor differences, and that's OK. But the new customers you bring in should be a good match with your preferred types.
It's very important to get this right first. When putting together their marketing plan, the top guys spend more time working out who they are going to help than anything else. It's definitely more important than messing around with the font for your logo or your color scheme.
Good market research can take a long time, but if you put a solid afternoon into it then you will be way ahead of those who are chasing the latest marketing fad and wasting money.
A simple way to do this is write out on a piece of paper who you want in your gym and make sure your content speaks directly to them in your MMA Gym Ads.
Read Part 3 Here or Start at Part 1 Here.