In a mastermind I am in we were challenged to improve our morning routine everyday. Optimize it and get more done by 9am. I feel like my content schedule is finally coming together, just a few more tweaks.

Knocked 3 minutes off my time from last week for the 1.5-mile run and 50 kettlebell swings with the 52 pounder.
This is a crazy week at Combat Business; we are on boarding new clients, running a free 5 day social media challenge and launching the full quarter of the social media survival pack.
We are close to locking down our Live event in Oct and Mastermind event in January.
Back in the gym and on the mats and it feels so good. Got to get my cardio back.
I got to take my son to Ezekiel Elliot's football camp and it was amazing. Not going to lie, I was jealous. I would have loved to have done that at his age. I guess that's our mission as parents, to provide our kids with more than we had growing up. The pic in this blog is Chase and Zeke on the news from the camp.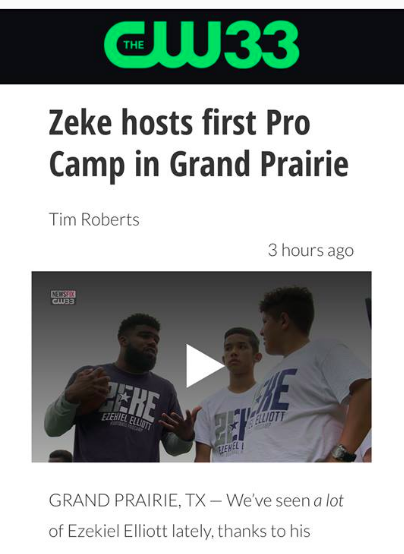 We booked the first ever Martial Arts Sales and Marketing Online Summit. This is going to be awesome and great content for martial arts gym owners. We have Ryan Stewman as our keynote speaker and he is a beast.
My book made it through a grammar review that was Horrible…lol. But its so close to being done now. Got the mock up of the cover and I really like it. This has been one of the hardest things I have done.
Next week we are remodeling my gym for the 3rd time this year… It's been crazy. So excited to get these new mats.
This week has been a bit of a blur but made some big progress on my goals. Not sure what I will do with the free time after my book is finally done.
Really looking forward to the next couple of weeks to lock down some big events and make a big push into 2018!